Power to believe in the future, which will transform tomorrow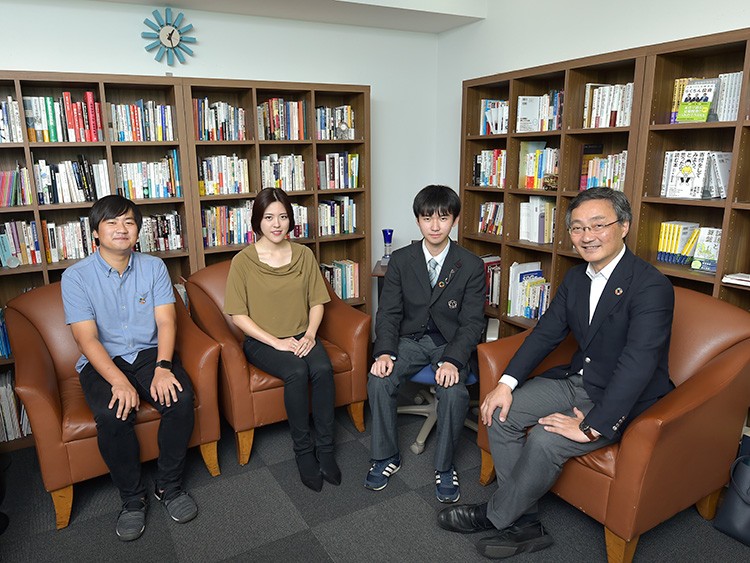 SDGs AS A NEW ECOSYSTEM
Shibusawa serves as chairman of Commons Asset Management Inc., a mutual fund that enables families in building assets based on a long-term perspective. He is also active in nurturing and supporting socially minded entrepreneurs. Shibusawa promotes individuals and organizations that are contributing to attaining SDGs at A-port, a crowdfunding site operated by The Asahi Shimbun.
Junya Ueda, one of the three young people invited and a graduate of Ritsumeikan University, said a meeting with Shibusawa was one of the things he wanted to realize. At Ritsumeikan University, the Sustainable Week, an event allowing students to experience SDGs programs, is staged periodically. The project is the brainchild of Ueda. His first question for Shibusawa was about the power that will transform society, which is the philosophy behind SDGs. And another question was why businesses and individuals matter in efforts to transform society. Shibusawa said two things are important in advancing SDGs. One is making a huge leap of faith from the current situation to achieve the target of building a "world where nobody will be left behind." And the other is efforts to build a new ecosystem for SDGs. "If individuals and organizations leap forward making various efforts, it raises the chances for enriching the ecosystem even if it is not clear how those individual efforts interact with each other immediately," Shibusawa said.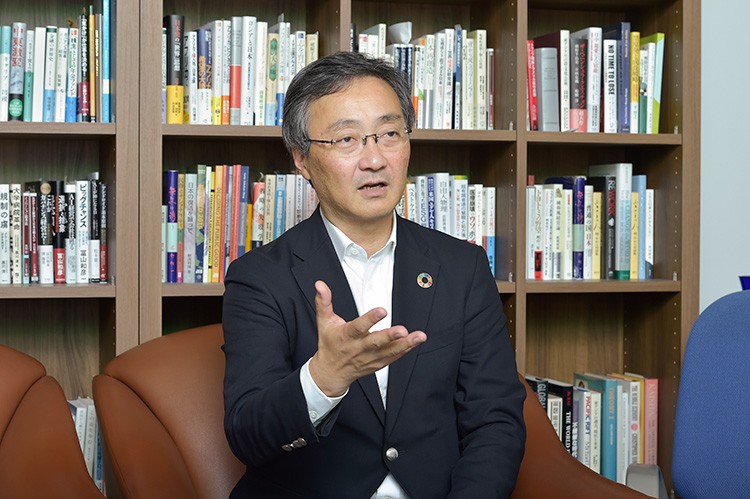 GENERATION Z TO PLAY

LEADING ROLE IN 2030

Reika Ogawa, a third-year student in the university's image arts and sciences department, is determined to help resolve social issues by sharing moving and enjoyable moments with the public. She acknowledged, however, that she sometimes becomes unsure of the effectiveness of such an approach because the power of art and entertainment cannot be numerically evaluated. Shibusawa's advice for her is to think about two pivots: one is "can do and cannot do"; and the other is "want to do and do not want to do." "Our dreams and goals often remain in the sphere where we feel that we want to do, but cannot do," he said. "We say we cannot do because we do not have money, time, experiences and a human network. As we accumulate experiences, however, we may be able to form a network of people someday and can spend more money and time. What is important is to stick to our dreams. We should not let it happen that when we finally have the means to fulfill our dreams, we no longer have a wish to do so. If you have something you really want to achieve, you should keep pursuing it."

Taishu Sato is a third-year student at Ritsumeikan Keisho Senior High School. He and other students organized an event, titled "SDGs × Rits Future envisaged by senior high school students," at a school festival. In the event, each of the participants talked about their dreams. "My dream is to offer an educational program for children who are struggling under harsh conditions in a developing country. I am wondering what we, as senior high school students, should start with for the goal." Shibusawa quoted the words of Hideki Kuriyama, manager of the Hokkaido Nippon-Ham Fighters professional baseball team, who said, "Believe in the unforeseen future." "My interpretation of his words is that you should invest in the future. All people hope that tomorrow can be better than today. You need the power to believe in the unforeseen future so as to prevent an outlook indicating a decline of society, including the destruction of the environment and a shrinking population, from turning into a reality."

After talks with the three, Shibusawa sent a message to young people like them who are willing to act with both hopes for and anxiety about their futures. "Generation Z is a generation that is considered a minority in Japan, but globally, Generation Z is the majority of the population," he said. "I have great expectations for them."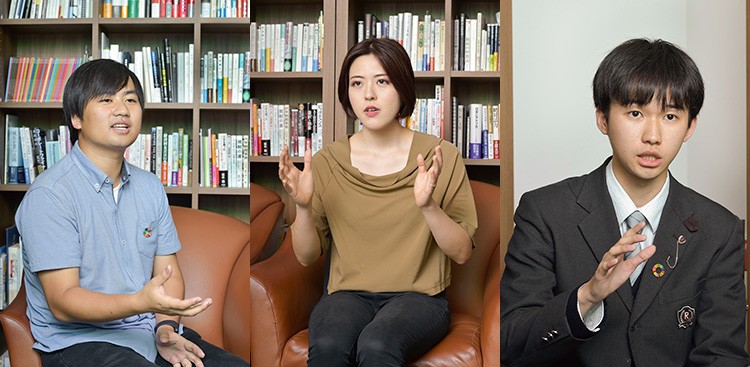 PROMOTIONAL OFFICE SET UP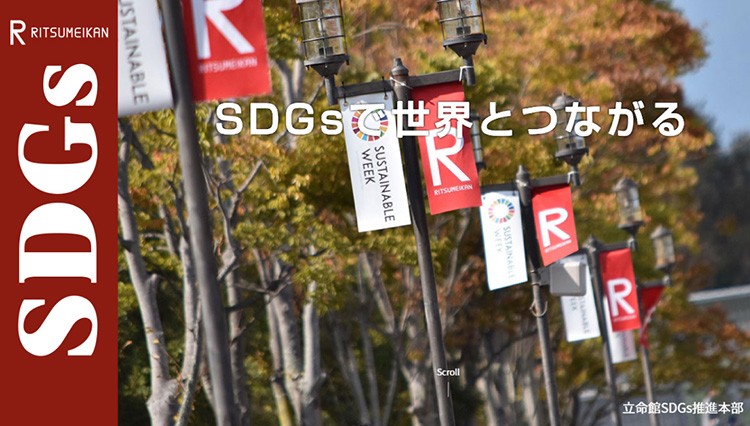 Ritsumeikan established its SDGs promotion department in April with the aim of tackling global challenges, connecting with the world by taking action, forming a network of diverse individuals and organizations, creating new "knowledge" and nurturing "human resources" tasked to do that.
Ritsumeikan's efforts toward SDGs highlight its support for initiatives undertaken voluntarily by pupils, students, faculty and staff members. The SDGs promotion department is expected to play a key role as the hub for such activities by involving the academy as a whole. www.ritsumei.ac.jp/sdgs/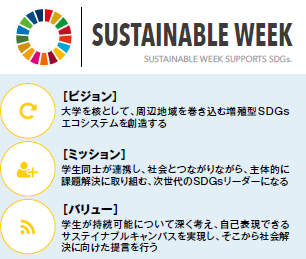 [Vision]With Ritsumeikan University at the core, an ecosystem will evolve by enlisting its neighboring communities.
[Mission]Students work closely with each other and become proactive in finding solutions to problems, while connecting with society, and become future leaders in SDGs activities.
 [Value]Students contemplate sustainability and build a sustainable campus where they can express themselves and propose ways to resolve social issues.
Ritsumeikan University's Biwako-Kusatsu Campus can be compared to a "small globe" where students voluntarily tackle 17 SDGs, including some with unique goals. One of the goals is to develop a recipe for a special curry that can be enjoyed by people no matter what their religious beliefs are.
The project is expected to be accessible to a broad range of people. This year, Sustainable Week 2019 is scheduled to be held between late November and early December.
Discussing with university students about current status of SDGs -We will be in charge of the world of 2030 and beyond-
Power to believe in the future,which will transform tomorrow.