Spreading bio jet fuel use by 2030 to clean up the world's skies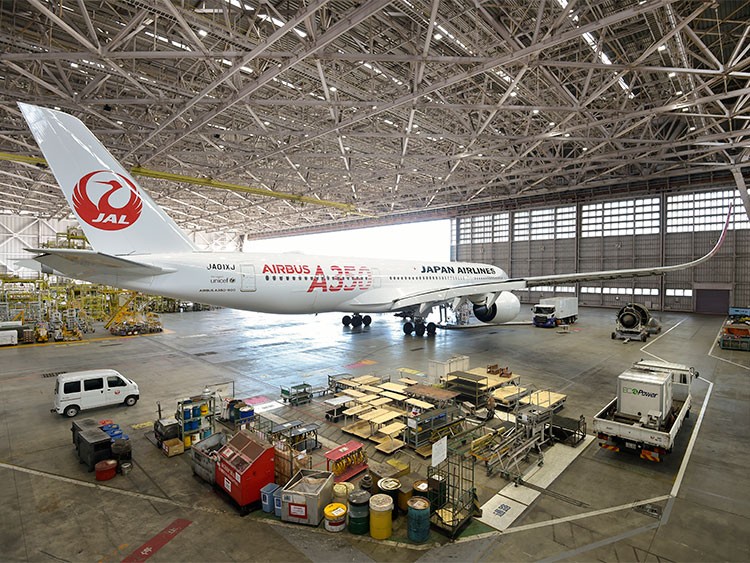 As a company that connects the world, Japan Airlines Co. (JAL) has tried to curb its emissions of carbon dioxide (CO2), a major cause of global warming, from an early stage. The company is now promoting the use of sustainable aviation fuel as a next-generation and more fundamental measure to reduce CO2 emissions.
Students highly interested in airline industry jobs and sustainable energies visited the company to ask about the significance and progress of this project.
Tomoko Matsuo, who is in charge of brand communication, and Kei Hirano of the fuel group of the procurement division, guided the three students through a hangar and the JAL Sky Museum. "Sustainable aviation fuel is mainly made from things such as urban garbage that were used once on Earth or absorbed CO2 in their growth processes," the guides explained. "As oil, which becomes a source of new CO2 generation, is not mined, the CO2 emission volume on Earth can be curbed compared with fuels used at present."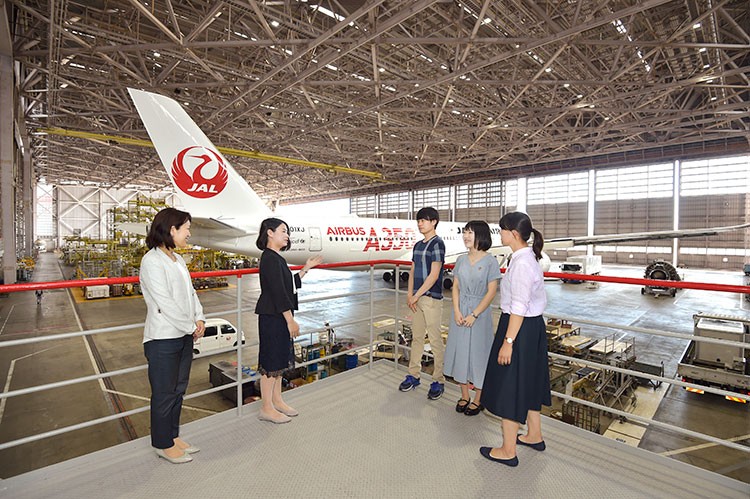 After hearing the explanations, the students posed questions on themes that they are interested in. "On the contrary, doesn't the use of sustainable aviation fuel lead to deforestation?" asked Hikaru Hiyama of Meiji University. The response was: "As that concern surely exists, we are always making procurements with a view on sustainability, such as tracing back to the raw materials and looking into them."
Asako Sugiyama of Chuo University asked, "Is JAL scheduled to have a fuel production facility on its own?" A guide responded: "Including such an option, we believe that it is important to tackle (the project) while thinking about what method is the best to put (sustainable aviation fuel) into practical use as early as possible."
Hirotaka Hoshi, who is scheduled to attend Civil Aviation College this autumn, asked, "Don't you think that promoting cooperation with other companies is a key to put sustainable aviation fuel into practical use?" A guide replied: "We also think that it is an important key. It is necessary to establish a flow of creating, buying and using while cooperating with many people."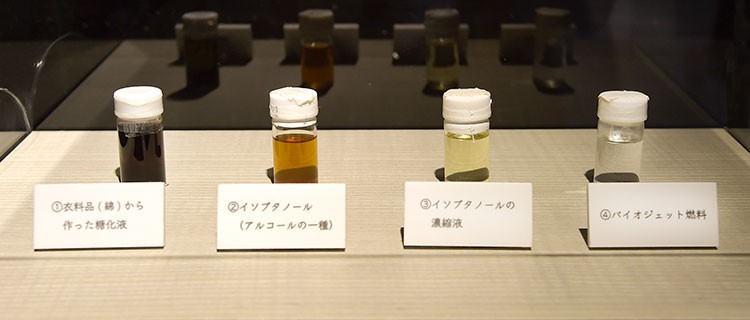 The students were increasingly impressed by the clear answers given by the two staff members. All of the people there nodded deeply when Hirano said, "We think that it is important to clearly show our ʻintention' for the efforts to put sustainable aviation fuel into practical use as a user and positively cooperate with various industries."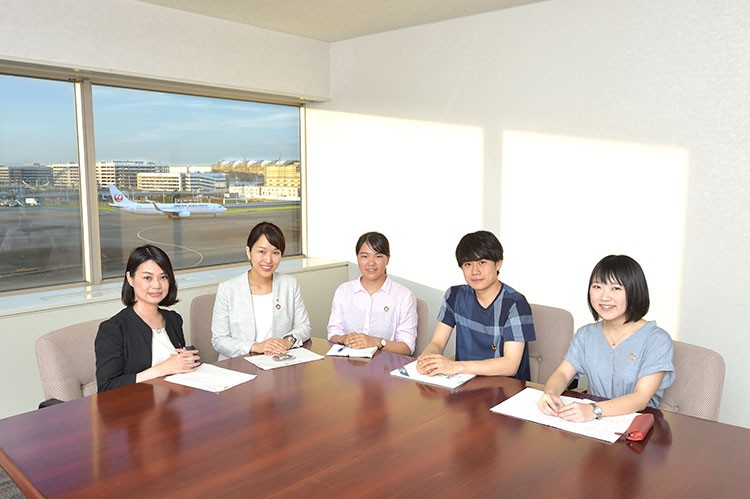 Hikaru Hiyama, Senior at Meiji University
When I go on a trip, I would be surely excited if I hear, "This airplane is flying on fuel made from urban garbage." (laughs) If I can choose an airplane, I'd choose this one. I hear that the cost of sustainable aviation fuel is still high. But there should be people who feel if they can contribute to sustainability, they can accept a little increase in their burden. Going forward, I hope to see more options.
Hirotaka Hoshi,Scheduled to enter Civil Aviation College
From this autumn, I aim to become a pilot at the Civil Aviation College. Knowing that fuel use and emissions of CO2 can be reduced through different operation methods; I feel that the responsibility of a pilot is quite important. I hope the use of sustainable aviation fuel spreads as early as possible. To achieve this feat, I feel that we should involve people from various industries.
Asako Sugiyama,Junior at Chuo University
As I am majoring in journalism, the purpose of this visit was to learn more about JAL's vision on sustainability. I was very surprised to hear that the company had reduced the weight of tableware to decrease CO2 emissions during flights. It is said that it is still difficult to operate daily flights by sustainable aviation fuel. But I feel that JAL can realize their vision in the near future.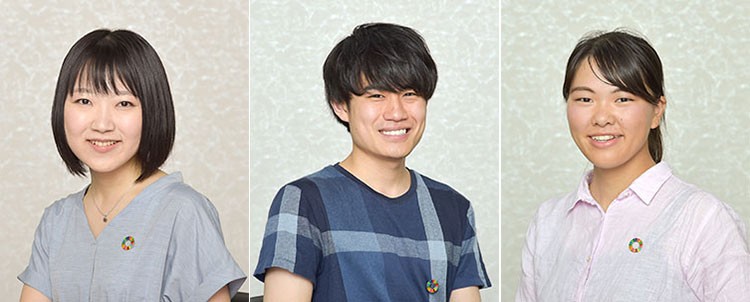 Tomoko Matsuo,Japan Airlines Co., Ltd. - Brand Communications Division
In 2009, JAL became the first airline to successfully conduct a demonstration flight using a sustainable aviation fuel refined from an energy crop plant called camelina. Later, we also operated flights from Chicago and San Francisco to Japan using a different type of sustainable aviation fuel. At present, a project is under way to operate a chartered flight using sustainable aviation fuel produced from the cotton on clothing collected throughout the country as raw materials. We are aiming to realize the flight within 2020.
Kei Hirano, Japan Airlines Co., Ltd. - Procurement Division
Sustainable aviation fuel is at a stage in which its production is progressing in Europe and the United States. Looking forward, in order to realize the use of sustainable aviation fuel, it is necessary to cooperate with corporations outside the industry to overcome challenges in procurement. By promoting the practical use of sustainable aviation fuel as a leading airline, we would like to contribute to reducing the burden on the environment.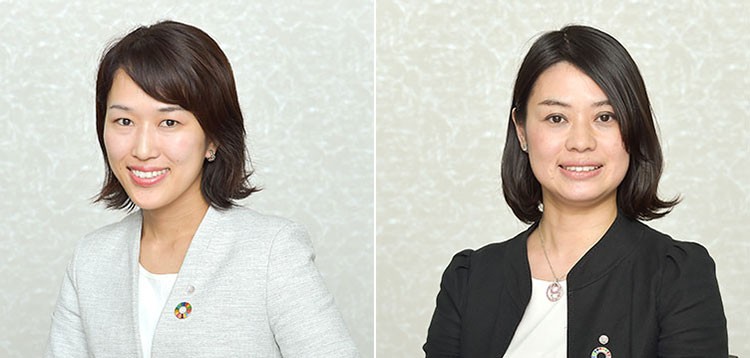 Discussing with university students about current status of SDGs -We will be in charge of the world of 2030 and beyond-
Spreading bio jet fuel use by 2030 to clean up the world's skies.